BIOGRAPHY
Rafael Aguirre is an internationally acclaimed musician whose deep understanding of music, dazzling virtuosity and immensely diverse repertoire has taken him to 34 countries. The beginning of his extraordinary career was marked by winning thirteen first prizes at international competitions (including the Tarrega Competition and Pro Musicis, New York). He is currently one of the most celebrated guitarists worldwide.
Rafael performs regularly in prestigious venues, including Carnegie Hall in New York, Concertgebouw Amsterdam, Vienna Konzerthaus, Moscow Tchaikovsky Hall, Philharmonie am Gasteig in Munich, Hamburg Laeiszhalle and Elbphilharmonie, Palau de la Musica in Barcelona, King's Place London, Saint Petersburg Philharmonia, Cuba's National Theatre, the Hyogo Performing Arts Center (Japan) and the Seoul Arts Center (South Korea).
His debut at the Verbier Festival in Switzerland performing Rodrigo's Concierto de Aranjuez with the Verbier Chamber Orchestra was broadcast by medici.tv, and is the most viewed video on their Facebook page, which gained over 3 million views in just twelve months.
An extensive repertoire, with more than 30 concertos for guitar and orchestra has allowed him to perform with the KBS Symphony Orchestra in Korea, the Orchestre National de Lyon, Toulon Opera Symphony, Bruckner Orchester Linz, Baden-Baden Philharmonic, Thüringen Philharmonic, Pforzheim Chamber Orchestra, New Westfalia Philharmonic, Robert Schumann Philharmonie Chemnitz, Moscow New Russia, RTVE Symphony, Malaga Philharmonic, Cámera Musicae Symphony, Extremadura Orchestra, and the Castilla y León Symphony Orchestra, among others, under conductors such as Jesús López Cobos, Lorenzo Viotti, Karina Canellakis, Domingo Hindoyán, Miguel Ángel Gómez Martínez, Yoel Levi, Pavel Baleff, Guillermo García Calvo, Sebastian Tewinkel, Clemens Schuldt and Alexandre Myrat.
Following in the classical tradition of Andrés Segovia and Narciso Yepes, Rafael Aguirre additionally seeks to expand and innovate in the repertoire of his instrument, incorporating music from different styles, such as flamenco, chamber music, pop, film music, or Spanish and Latinamerincan folk music. His collaborations with contemporary composers have given him the opportunity to premier works by Sergio Assad (Grammy Award winner), Joaquín Clerch, Agustín Castilla Avila, David del Puerto and Daniel Real, among others.
His first recital album was published by RTVE Música, followed by two others released by Naxos. With the German label KSGExaudio, he released "Transcriptions" with music by Bach, Scarlatti, Mendelssohn, Schumann, Debussy, Ravel and Gershwin transcribed for guitar from original piano music. His collaboration with cellist Nadège Rochat resulted in the release of "La Vida Breve" by the label Ars Produktion. Two other projects presented him with an exciting repertoire of Brazilian music (with Anette Maiburg's ensemble for the label MDG) and Portuguese fado (with singer Filipa Tavares). His eighth project has been released by Naxos in 2018 with the First World Recording of Lorenzo Palomo's "Fulgores" with Castilla y León Symphony, violinist Ana Valderrama and Maestro Jesús López Cobos.
As a result of these recordings, he has been pre-nominated for a Latin Grammy and has received enthusiastic reviews by Gramophone, The Strad and Crescendo Magazine, also appearing on broadcasts by international radios such as the BBC, NPR, CBS, Radio Stephansdom de Viena, Radio Berlin Brandenburg, HR Hessische Rundfunk, Bayerische Rundfunk, NDR, MDR, Radio Nacional de España and The New Classical FM (Toronto).
At the age of 16 he made his orchestral debut with the "Concierto de Aranjuez" and the Malaga Youth Symphony Orchestra touring Spain and Morocco. He was awarded scholarships from the Andalusian Government and the Alexander von Humboldt Foundation that enabled his studies at the Düsseldorf Hochschule Robert Schumann in Germany with Prof. Joaquin Clerch, where he graduated with highest honors. He later studied with Professor Michael Lewin at the Royal Academy of Music in London. Rafael currently lives in Madrid.
CALENDAR
23 August, 2019
Daejeon Philharmonic; Myung-uh Ryu, conductor; Rodrigo: Concierto de Aranjuez; Bomun Mountain, Daejeon (South Korea)
30 August, 2019
Kyushu Symphony; Marcelo Lehninger, conductor; Rodrigo: Concierto de Aranjuez; Kyushu (Japan)
11 September, 2019
Solo Recital; Mühlheim an der Ruhr (Germany)
20 September, 2019
Orquesta Clásica Santa Cecilia; Jose Luis López Antón, conductor; Rodrigo: Concierto de Aranjuez; Sala Mozart – Zaragoza Auditorium, Zaragoza (Spain)
5 October, 2019
Orquesta Clásica Santa Cecilia; Jose Antonio Montaño, conductor; Rodrigo: Concierto de Aranjuez and Concierto para una Fiesta; Auditorio Joaquín Rodrigo, Las Rozas (Spain)
25 October, 2019
Solo Recital, Andrés Segovia Festival, Madrid (Spain)
31 October, 2019
Ulster Orchestra; Roberto González Monjas, conductor; Rodrigo: Concierto de Aranjuez; Ulster Hall, Belfast (United Kingdom)
2 November, 2019
Solo Recital, Aula Magna of the Central University Library "Charles I", Bucharest (Romania)
9 November, 2019
GiOrquestra; Francesc Prat, conductor; Rodrigo: Concierto de Aranjuez and Cordero: El Antillano; Reus (Spain)
10 November, 2019
GiOrquestra; Francesc Prat, conductor; Rodrigo: Concierto de Aranjuez and Cordero: El Antillano; Ateneu, Banyoles (Spain)
Final concert of the 2019 Ateneu Banyoles Residency
12 November, 2019
Recital with Nadège Rochat (cello); Musik in der Häusern der Stadt, Cologne (Germany)
In his solo recitals, Rafael aims to show the versatily of his instrument, including original guitar works, transcriptions from the orchestral and piano literature, latinamerican music, flamenco, film music and even pop and rock.
With a repertoire of over 30 concertos for guitar and orchestra, Rafael Aguirre wishes to explore the different conceptions which make the guitar blend with the symphonic repertoire with its characteristic tone and lyrical expression.
Duo with Nadège Rochat, cello
This well-established duo has been active since 2011 and offers a charismatic approach on a very varied duo repertoire. Nedège Rochat's ex-Vatican Stradivarius cello finds an optimal balance with Rafael Aguirre's playing. Their debut CD "La Vida Breve" was highly praised by magazines like The Strad and Gramophone.
Chamber music with Berlin Philharmonic members
This collaboration will start in the season 2018/19 and will feature some of the most relevant repertoire for guitar and other instruments (Boccherini, Schubert, Castelnuovo Tedesco) with members from one of the world's leading musical institutions.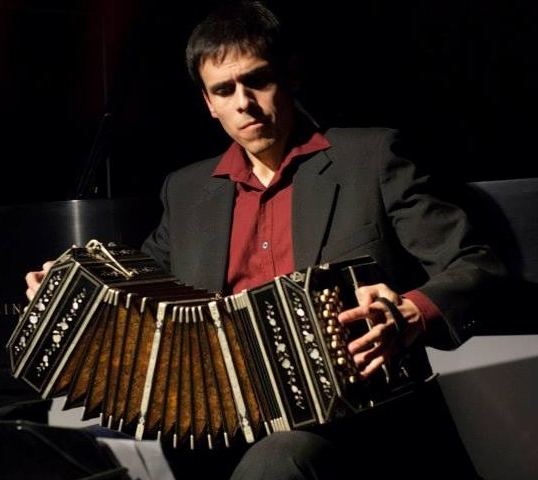 Latin American music with Claudio Constantini, bandoneon
This project with the Peruvian bandoneonist and pianist Claudio Constantini shows the most popular side of the guitar, through the latinamerican repertoire, some incursions in the Spanish repertoire and other very contrasting styles.
Intermusica Artists' Management Ltd
Jesús Herrera
Tel: (+44) 7467 488 194
E-mail: jherrera@intermusica.co.uk
www.intermusica.co.uk